As an artist I think there's always an interest in what other people are working on, what kind of new styles are being invented, and sometimes even a question of how your work stands up against everyone elses'. The basis for Candor Gallery has always been to have that quick ability to see new and interesting work at a moment's notice, whether for pure enjoyment, inspiration, or to see what other people are up to. As a result, you also have a wide audience that you can share with and show off to. So Candor really provides a two-way street for artists and viewers alike.
The idea for Candor Gallery actually started out as a screensaver that Ernie and myself planned on building that would function the same way as the current widget, except in screensaver form. In fact, many years ago there was a great screensaver project called reFresh:reLoad that had much the same premise as Candor but was unfortunately very short lived. However, it was still such a great concept and inspiration that we hoped to carry on the idea of sharing artwork in an electronic form that anyone could contribute to.
Eventually Dashboard was released and we thought that would be an excellent environment for Candor Gallery to live in. And so the Candor Gallery Widget lives on, hopefully for a long time to come.
Cale
curator[at]candorgallery[dot]com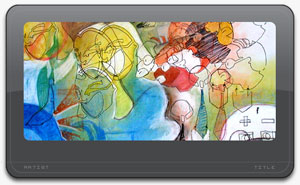 An early Photoshop mock-up of Candor Gallery